Mohegan Sun Arena Seating Chart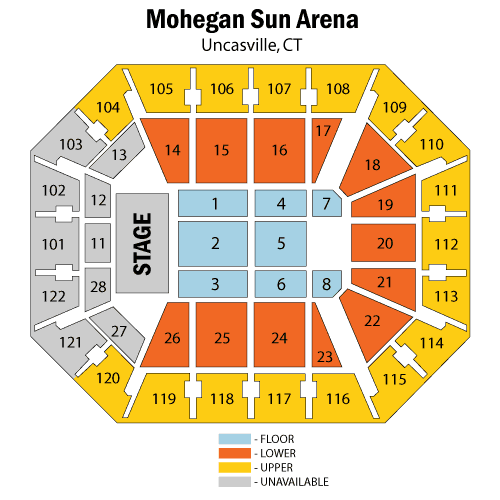 Multipurpose Arena
Like most multipurpose arenas, Mohegan Sun Arena has multiple arrangements for a variety of events. This includes arrangements for live shows, basketball, a variety of concerts, as well as conventions and other special events. Because of this, every event is different and you should refer to the event description when shopping for a ticket. The image here is for a typical concert style event with general admission floor space areas and reserved seating around the arena.
General admission floor space is typically standing room only unless a visiting production is using the space for reserved seating. In this case, seating is typically fold out chairs with labels assigning rows and seat numbers.
The rest of seating is scattered around the venue across multiple levels using the standard arena style seating. Seating and arrangements are set up to allow audiences to have the best possible view of the action from all seats in the house.
Seating Capacity
For most events, seating is limited appropriately so that guests and visitors have plenty of seating space. The following is the typical seating arrangement for the three most common event types. Please refer to the event guide for further detailing on what seats available.
Basketball: 9,323
Concerts: 10,000
Lacrosse: 7,074
Accessibility Seating
Mohegan Sun Arena is proud to offer a variety of seating options for guests with mobility needs. This seating is dedicated to persons with mobility needs and companion seating and is offered on a first come, first serve basis. If you need emergency ADA-approved seating at the last minute please contact the venue for assistance.