Mohegan Sun Arena - CT | Uncasville, Connecticut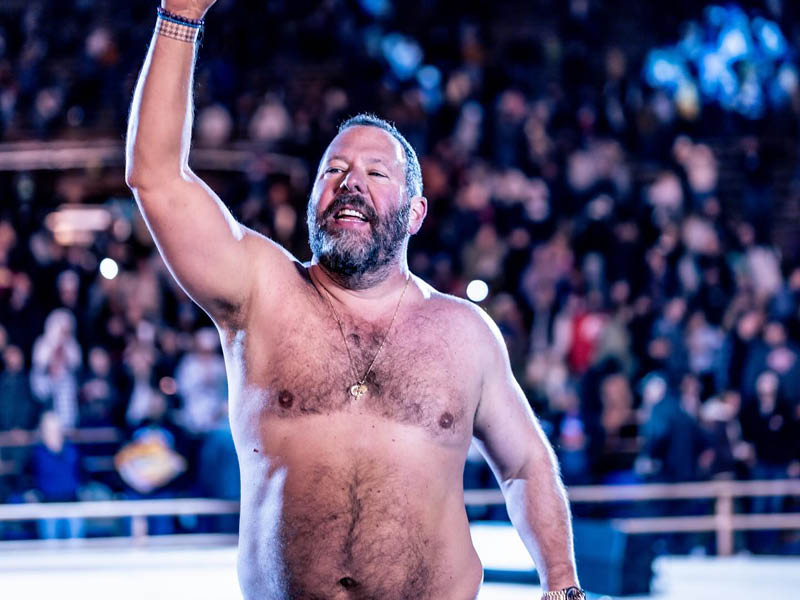 Ok boys, and girls, get ready to rip your tops off! As a renowned comedian, podcast host, actor, author, 1997s "Number One Partier in the Nation," and undeniably one of the top grossing stand-up comedians of the last few years. The Man, the myth, the MACHINE HIMSELF, Bert Kreischer!!! Barreling towards you, on his extended 2024 tour, the imaginatively named, Tops Off World Tour, will be not only taking his shirts off, and let's face it, probably the pants too, but also literally taking the roof off the house at Mohegan Sun Arena on Friday, April 26th, 2024. – ok, maybe just figuratively taking the roof off…
Hailed as "one of the best storytellers of his generation," by Forbes Magazine, and the Party Boy of the year that has somehow managed to keep up an unbelievable tour schedule, and start a family, film a Netflix hit film, as well as yet another stand-up special, and that's just in the last year! While not once giving the impression, he has even stopped the party… Yes, he really could be a machine.
2023 started off with the release of Razzle Dazzle, Kreischer's highly anticipated 5th stand-up special, which promptly climbed to the Top 5 stand-up specials on Netflix and managed to drag up his previous three, Secret Time, The Machine, and Hey Big Boy, to the Top 20 at various time over the year. Then the gloves came off – um, then the shirt came off, and Kreischer both starred in and produced the film, The Machine. Additionally, Kreischer wrapped the second annual Fully Loaded Comedy Festival that hit sixteen of the most iconic ballparks and arenas across the country over the summer. Fully Loaded also went on a first time ever sea cruise this October, with the Fully Loaded at Sea Cruise selling out in just a few days.
Premiering in the spring of 2023, the film, The Machine, is based on his signature stand-up set, also titled, The Machine, which recounts his true experience with Russian mobsters while on a booze-soaked college trip… the film is a continuation of that first stand up set. The story is set 23 years later, when Kreischer and his father, played by Mark Hamill, are kidnapped from their home and taken back to Russia. Together, the two must put aside their differences, and find out what OG Party Boy Bert did 23 years ago… The Machine has been in the top 10 on Netflix since its release on the platform on September 23rd.
He was called "one of the US's top stand-ups over the past decade" by The Guardian. Is also a famous and successful podcast host, with over 500 episodes of Bertcast and 2 Bears 1 Cave with Tom Segura, which is always ranked in the top 10 comedy podcasts in the world. He has also made, leads, and produces the cooking show Something's Burning on YouTube, which has been seen over 18.2 million times, and finally, started Berty Boy Productions in 2022. It is where all of Kreischer's videos and podcasts, as well as those with his friends and coworkers, and the Fully Loaded Comedy brand are made.