Mohegan Sun Arena - CT | Uncasville, Connecticut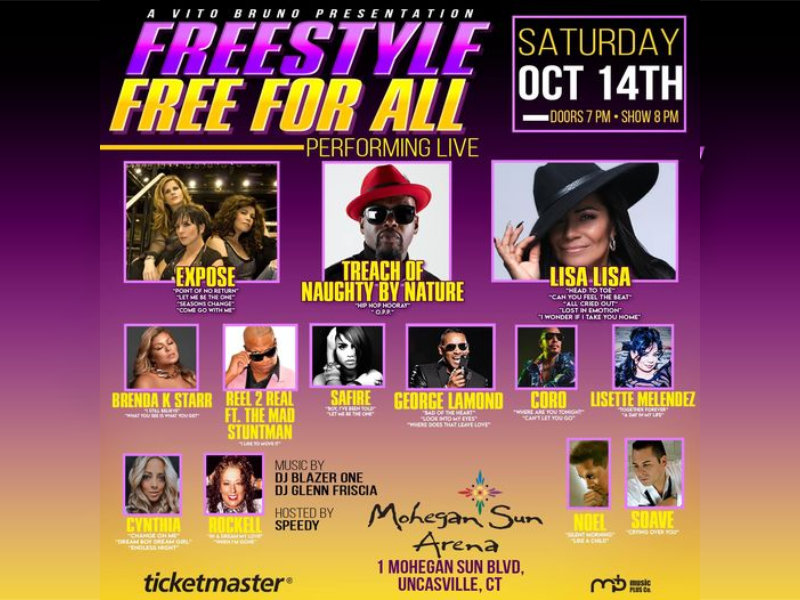 There's a one-of-a kind R&B concert happenin' on October 14th, 2023, at the Mohegan Sun Arena called "FREESTYLE FREE FOR ALL" and y'all gotta get ready for a helluva show!!!! Why?!?!? Well because it features a line up of some of the hottest R&B talents to ever exist, and they're all under one roof, makin' this not only one of the biggest bashes of the year but also a must-see event for any fan of the genre. There is nothing about this party that will disappoint, from a lineup that reads like a who's who list to the outstanding facilities and amenities that the venue has to offer. So get ready to tear the roof off this mutha by grabbing your tickets right here and now before they sell out. All you've gotta do is click the "GET TICKETS" button located above.
I gotta question for y'all: Where else in the world can you get to experience a confirmed line-up this hot? Nowhere at all, I tell ya. Featuring the talents of legends: Expose, Treach of Naughty By Nature, Lisa Lisa, Brenda K Starr, Reel 2 Real featuring the Mad Stuntman, Safire, George Lamond, Coro, Cynthia, Lisette Melendez, Rockell, Noel, and Soave, plus host Speedy and DJ Blazer One, Freestyle Free For All is the place to be this October.
These guys' music has become the beats that have defined decades. Not only will you take a trip down memory lane, but you will also get to enjoy a party with some of the coolest partygoers around and experience these guys in a totally different way. Each one of these artists can headline this event on their own, but having all of them together like this is an opportunity that is not to be missed!!!
It will be a night of non-stop, thrilling action, from electrifying beats to high energy performances and mind-bending freestyle skills. These artists in the line-up produce the type of music that just hits differently, and as they say, "they don't make 'em like that anymore."
With a string of hits starting all the way back in the '80s you can expect them to perform some of your favorite tracks, such as "Point of No Return" by Expose, "Can You Feel the Beat" by Lisa Lisa, "I Like To Move It, Move It" by Reel 2 Real, and so much more, delivered in spectacular style with smooth flows and catchy hooks. All you've gotta do is just be there and enjoy every single minute of pure incredibleness.
So you get to experience all of these performers under the magical roof of the Mohegan Sun Arena, which is a dream come true for any fan of the genre. It's like someone took the best years of your life and wrapped them up into one event, so what the hell are you waitin' for? Grab your passes right now before everyone else snaps them up.