Mohegan Sun Arena | Montville, Connecticut
Jeff Dunham is on the road for his Still Not Cancelled tour, and this time around he will be coming to the Mohegan Sun Arena on Saturday, September 2, 2023. His unique blend of humor, political incorrectness and ventriloquism has made him a sensation, playing to full pack-out crowds. With a career spanning three decades and still going strong, you know this man really knows how to put on a show. At this event you can expect a whole bunch of audience participation as he takes you on the wildest ride of jokes with this pals, Walter, Peanut, and Achmed the Dead Terrorist to name a few. With his huge following, it should come as no surprise that tickets are selling out at and alarmingly fast rate so buying your them right here and now is a must. You can do simply by clicking the "GET TICKETS" button. It is going to be one of the most entertaining nights of your life.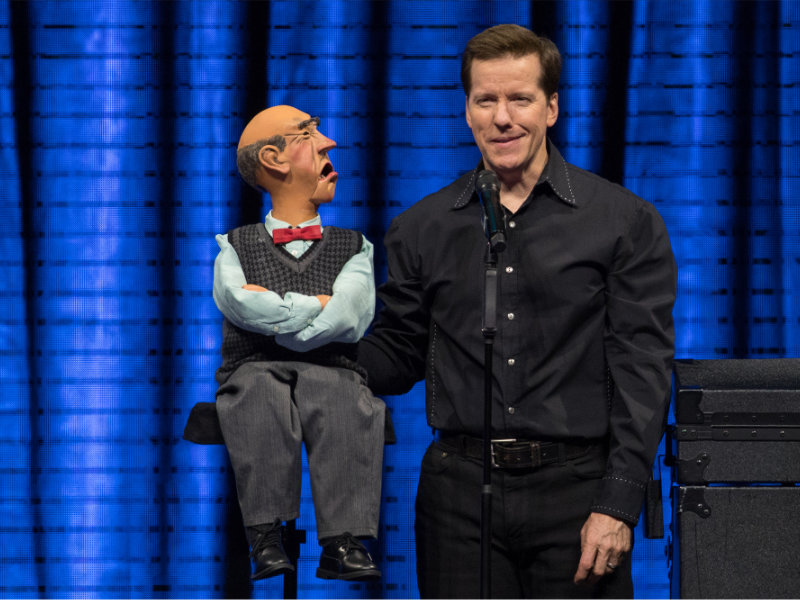 At the age of 8, Jeff Dunham received a Mortimer Snerd dummy with a supplementary how to album for Christmas from his parents. At the time, little did he know the incredible journey that the present would take him on. As a teenager, he started performing for audiences at venues such as churches, schools, and his job.
What's interesting is that Dunham would use his puppets to say things that were too risque for him to say without the veil of a dummy. Using this, he would entertain fans to huge applause without really offending anyone.
He got a shot in 1985 by joining the Broadway show Sugar Babies with Mickey Rooney and Ann Miller. There he would learn how to develop his act for different regions, figuring out that what might work in one city might not in another.
In 1990, Jeff's career got a huge boost by appearing on the Tonight Show, starring Johnny Carson, and then appearing on the same show a further three times. By 1996, he had appeared on Ellen and starred in a Hertz commercial featuring his dummy, Walter.
2003 saw Dunham's first solo appearance on Comedy Central Presents, but he would not see much more air time on the channel after that. Determined to make it, he financed his own DVD special, which Comedy Central aired in 2006, and the ratings were astounding—a massive 2 million views and 2 million in DVD sales.
Even more success came as time went on, and the comedian found his beloved characters crossing language barriers with his specials dubbed for different countries. His work started receiving even more views, like the 6.6 million who watched Jeff Dunham's Very Special Christmas Special.
He is now at the point where he can claim sold-out global tours, a star on the Hollywood Walk of Fame, record-breaking broadcast specials, and an appearance in the Guinness Book of World Records.
Both he and his lovable characters will take you on the most insane journey full of laughs and high-jinks, and all the fans are going to be there, so make sure to secure your seat right here and now before it is too late.