Mohegan Sun Arena | Montville, Connecticut
We're definitely 'suckers for the Jonas Brothers! Taking the world by surprise as the brothers came back together in 2019 with "Sucker" and a #1 comeback record "Happiness Begins", the boys are dropping their highly-anticipated new album named "The Album". With a slew of new singles over the past years including "What a Man Gotta Do" and "Leave Before You Love Me" with Marshmello, the band is finally releasing a new album in its entirety. In anticipation of "The Album", Jonas Brothers is hitting the road for "Five Albums. One Night.", playing songs across their five albums since 2006, kicking off this summer. Stirring excitement as the band teases performances of its new songs and classic favorites, Jonas Brothers is taking a special stop at Mohegan Sun Arena on Thursday, 17th of August 2023. Don't miss out on the ultimate summer bash covering five iconic eras led by the Jonas Brothers by booking your tickets now!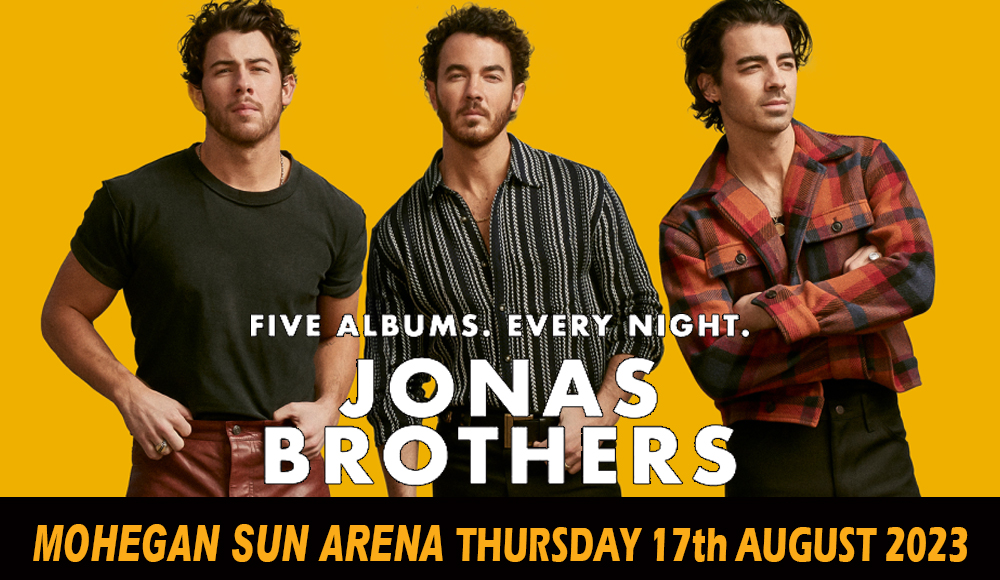 Ten days ahead of the release of their new album, "The Band", the Jonas Brothers announced its ultimate summer tour covering five iconic eras of the raved boyband, Five Albums. One Night. Yep! The Jonas Brothers are hitting the road, performing hits across their five albums, the trio's most ambitious tour trek yet. Last April, the boys performed this setup at two sold-out shows at Yankee Stadium, playing hits across its five records. The trio announced in a special video that they're running through all their albums every night at its summer tour.
Fresh from a Broadway residency with an anticipated new album coming out and about across airwaves, the Jonas Brothers are jet-set to dominate the scene. Giving fans a taste of "The Album" with new singles "Wings" and "Waffle House", fans are stoked to hear the band's new material in its entirety. We're all suckers for these boys!
Splitting in 2013 and reuniting to the world's surprise in 2019, "we all really needed that time," Kevin tells Billboard. Recalling a rift and the need to patch up and creatively re-energize, six years of growth, healing, and living life paved the way to the brothers' comeback hit with "Sucker". The comeback earned the boys its star on the Hollywood Walk of Fame and their first #1 hit single on the US Billboard Hot 100.
In a conversation with Vanity Fair, the brothers share that "The Album" is dedicated to its "incredibly uplifting" fans. "That's what I think is so wonderful about our fans—and such a unique thing about Jonas fans in particular is that it's really its own subculture," Nick shared. "and it's incredibly uplifting."
"This is the quintessential Jonas Brothers album," Nick shared about its upcoming release. With a goal of creating a body of work that encapsulates the brothers' best yet, the band hopes that this album becomes something they'll keep coming back to. "I think our goal is always to play big, exciting shows, but also to push ourselves creatively, and do something that we're really proud of."
With five studio albums on the roster, the Jonas Brothers are set to give their all in its upcoming tour, launching a new era with "The Album". Back at the top of their game, the Jonas Brothers are poised for great things ahead. From cheeky college kids and Disney stars to mature and fine men, one thing remains the same – the boys' respect towards each other and their passion to rock it out on stage.
Don't miss out on "Five Albums. One Night." at Mohegan Sun Arena on August 17th by booking your tickets now!