Mohegan Sun Arena | Uncasville, Connecticut
Exposed. Every inch of the scene's hottest comic is coming to life, on stage. Produced by Live Nation, Matt Rife is officially launching his first-ever global trek, the ProbleMATTic World Tour. As his career's biggest achievement to date, the 100+ date roster of shows includes a special stop at Mohegan Sun Arena on Thursday, 22nd of February 2024. Serving doses of hilarious wit and mesmerizing charm on the big stage, the "Only Fans" comedian is coming after personal stories and wild adventures that are set to get you on your feet. Fresh from releasing his second self-produced special "Matthew Steven Rife", this marks a big year for the hunky star. With massive support from fans across YouTube, Instagram, and TikTok, Rife is bound for greater heights amidst ProbleMATTIC adventures on the road. Tickets are selling out fast! Save your spots at the show by booking your tickets now!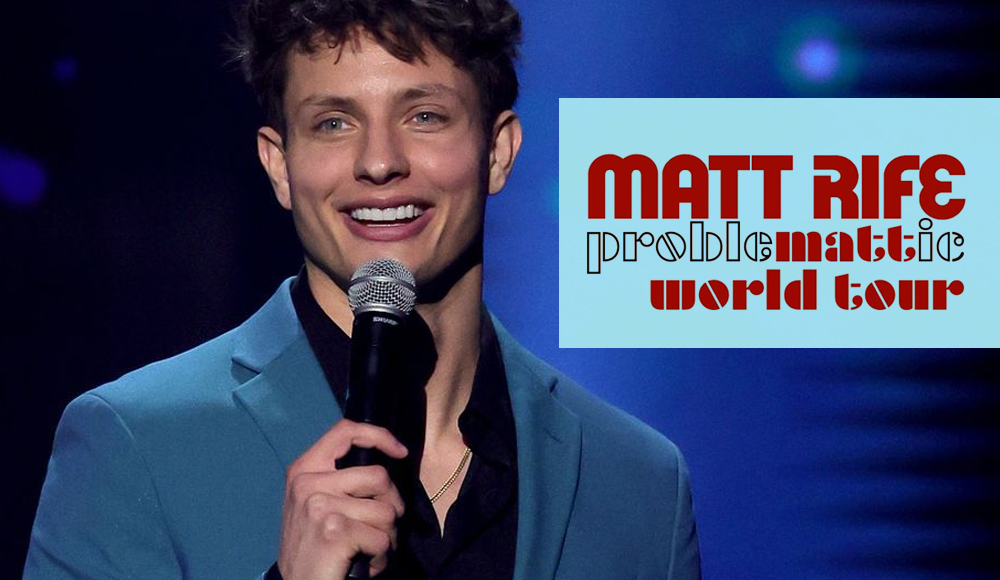 As perfect as he seems, the man is down to expose every inch of his being at the ProbleMATTic World Tour. Matt Rife is set to turn the heat up as he embarks on his first-ever global live trek. Its roster of 100+ dates are reportedly selling out fast! Hopping over North America, Europe, and Australia, millions of fans couldn't get enough of the fast-rising star. Known for his self-produced specials "Only Fans" (2021) and "Matthew Steven Rife" (2023), the comedian-actor's success is definitely one for the books!
"I couldn't be more thrilled to live out this life long dream!", the man shared in amazement of his quick rise to fame. "To tour the world, spreading laughter, with some of my best friends, is something I never thought would be possible. I'm so grateful to get this opportunity, and it's even more fulfilling knowing that it's all because of the incredible people who enjoy my comedy,"
Indeed, the spark of joy he brings is one that makes every heart skip a beat. 12 years in the making, Rife is stoked to share this achievement with his dedicated team and ever-supportive fans around the globe. "I've been working so hard towards this for 12 years and now I've surrounded myself with a team who works just as hard and share the same passion! I still can't believe it," he added.
Fuelled by the massive success of his breakout special "Only Fans", the comic found himself at the center of stardom, making rounds on Instagram and TikTok for his charming persona and hilarious wit. With tons of stories to tell, Rife is stoked to drop his upcoming special this Fall, to be filmed at the DAR Constitution Hall.
"Matt has quickly become one of the fastest-rising comics, creating incredible global demand for tickets," shared Andy Levitt of Live Nation. "We're looking forward to working alongside him and helping him connect to his audiences around the world."
What makes this pretty face stand out amidst a multitude of stand-up comics anyway? If you're asking this question, you definitely need to give his content a chance to speak for itself. He's an astounding storyteller. Defying the tried-and-tested formula for cracking jokes and puns, Rife found his place by being himself. "So much of my style has grown to become more story-based. I'm not a big joke writer—the typical premise, setup, punchline," he told Esquire. "A lot of what I do are just life experiences, whether it be with my friends, relationships, just things that I've done firsthand, and then I build off of that, which is fun for me."
As a no-brainer, you surely have the answer why his debut world tour is selling hot. So, better hurry and snatch those tix by booking 'em now!